The following is a guest blog post from I-Chia Shih, Assistant Professor of Physiology.
For students who are studying anatomy and physiology (A&P), they know that this subject has a reputation for being a highly intensive class. Imagine if you had to learn A&P during the pandemic when classes went online and everything was shut down! When the pandemic started to affect our lives three years ago, our ways of teaching and learning were forever changed. After a year of the pandemic, Allison Beale (Physiology Lecturer) and I noticed that A&P students were in desperate need of more resources to truly learn the structures and functions of the human body. 
We saw an opportunity when the EMC asked if anyone needed help creating instructional videos. Allison and I proposed the development of high-quality OER anatomy videos for human anatomy and physiology. This idea later evolved towards developing videos for all anatomy and physiology students at Leeward CC and beyond, with the intent of providing support materials for an OER lab manual. To create these videos, Allison worked closely with Camden Barruga and his Video Production team from the Educational Media Center (EMC). The EMC staff, including student assistants Theo and Audrey, and Theater staff, helped to set up everything for a multi-camera production including set design, lighting, video and sound in the Media Center Studio. This teamwork, through numerous recording/editing sessions, generated 19 OER demonstration anatomy videos for our A&P students. Check out the PHYL_141L playlist and PHYL_142L playlist of videos. Allison's goal was to provide students with the necessary resources so that they will be able to watch and learn about the bones, muscles, heart, and other organ systems. In addition, she covered the dissected structures of the sheep brain, sheep heart and cow eye to offer students a closer look at the real structures as if they were dissecting the specimens themselves. These videos are a product of the tremendous amount of effort and passion we put in to help our students learn and reach their professional dreams.
*****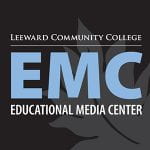 Have an idea for an instructional video or series of videos? Would you like more information on services the EMC Video unit provides? Perhaps a tour of the studio to get the creative juices flowing? Please feel free to contact Camden Barruga at ext. 604 or camden@hawaii.edu. We look forward to collaborating with you to take your project from conception to completion.