One reason you may have for using the new Gradebook tool in Laulima is its ability to pair with the new Rubrics tool. (Note: Laulima Rubrics can only be paired with the new Gradebook tool and not the Gradebook Classic tool.) Furthermore, the Rubrics tool integrates with other tools such as Assignments, Tests & Quizzes, and Forums, allowing you to provide transparency and feedback to students about how they are graded.
However, we would like to share about an issue regarding using a rubric (Laulima Rubrics) associated with a forum topic (Laulima Forums) and the Gradebook tool. When you are grading via Forums using an associated rubric, the graded rubric criterion (i.e. individual score for each criterion) and criterion comments (i.e. individual comments for each criterion) you may input do not transfer to the Gradebook (although the overall grade and general comments do). Thus, students are unable to see how they are graded for each criterion and any criterion comments you make using the rubric.
We have come up with a suggestion to circumvent this issue until the developers can provide a permanent solution. The purpose behind this suggestion is to still provide students with a visible rubric using the Rubrics tool when accessing the forum activity in the Forums tool.
First, add the Forums and Gradebook tools if you don't already have them added to your Laulima course site. Importantly, hide the Rubrics tool from student's view under Site Info > Tool Order. (We discovered a bug that sometimes allows students have the ability to edit unlocked rubrics.)
Second, associate the rubric in both the Forums and Gradebook tools.
Create the rubric in the Rubrics tool.
Add a new gradebook item in the Gradebook tool and associate it to the rubric. (See screenshot below, left.)
Associate the forum activity in the Forums tool to the Gradebook item in the forum topic settings. This will then allow you to associate it to the rubric. (See screenshot below, right.)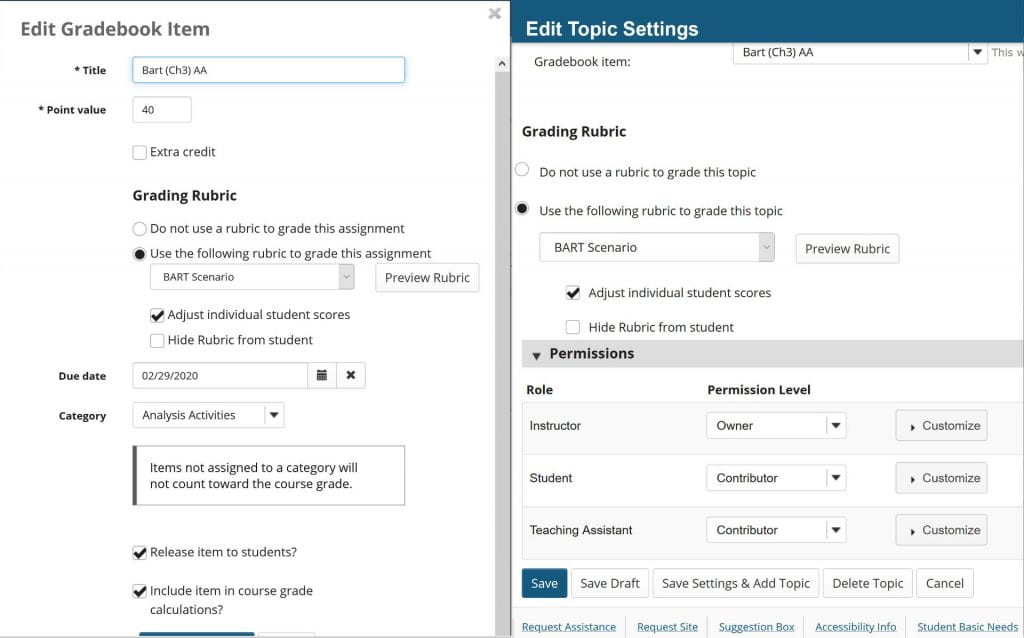 Third, when you grade the forum activity using the rubric, grade via the rubric you associated with the Gradebook tool and not the Forums tool if you are providing a score for each criterion and/or criterion comments. (Remember, grading using the rubric via the Forums tool will not transfer the graded rubric criterion and criterion comments you make to the Gradebook tool. Only the total score and general comments transfer.)
Unfortunately, grading forum posts via the Gradebook tool may create a disconnected experience for you as the instructor, so we recommend opening two windows when grading – one for Forums and the other for Gradebook. This way you can read the students' posts via Forums in one window as you grade and provide comments in the associated rubric via the Gradebook in the second window.
Note: UH ITS has been made aware of this issue so it may get fixed in the near future.
View Laulima New Gradebook Laulima New Gradebook: Transparency, Consistency, Efficiency session recording.