Have you been linking various third party tools and services into your Laulima course to enhance and engage your students in formative learning activities? If so you may be interested in learning about the H5P + Laulima pilot and how it can enhance students' Laulima (Learning) Experience.
Take a look at these benefits:
An open source program based on HTML 5, it is a stable, web and mobile device friendly software.
Student's do not need a new account, authentication occurs through Laulima Lessons
Support for over 40 types of instructor created formative learning interaction types
Interactions display within Laulima Lessons
Student scores from H5P interactions save to course Laulima Gradebook
H5P + Laulima support community (UH Pilot)
This pilot is a led by UH ITS (UHOIC) and Ed Tech/ID collaborators from several campuses, including Leeward's EMC. For this systemwide pilot participants were accepted from throughout the UH system.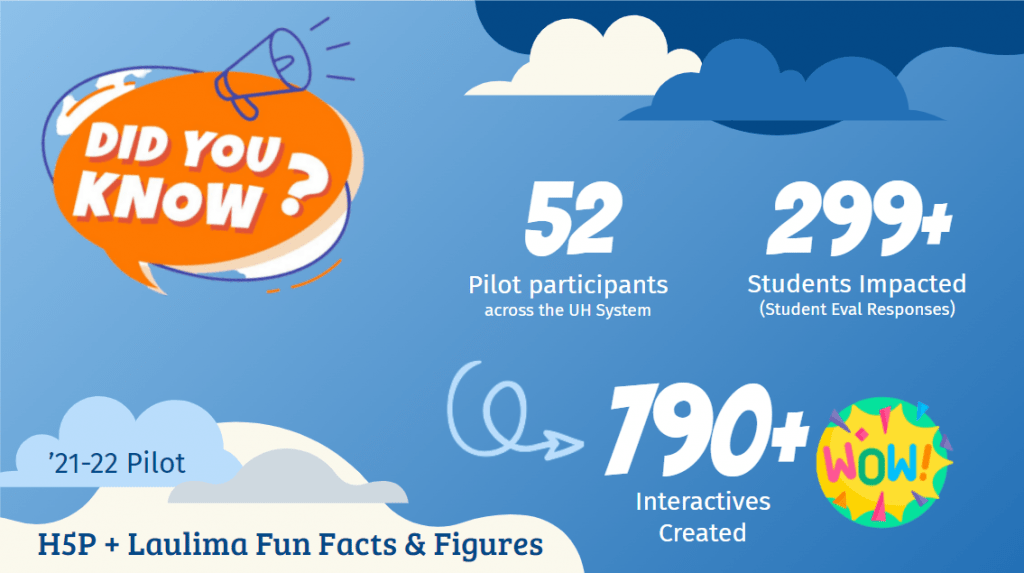 Congratulations 2021 – 2022 Leeward CC faculty who have participated.
Darci Francis
Jiajia Garcia
Tracie Losch
Danielle Mizuta
Janet Wang-Lee
William (Bill) Wright
Take a moment to view and interact with the H5p Interactives they've built and implemented (into fall '21 and spring '22 courses). View the complete UH System H5P + Laulima interatives library. Check out what the 2021-2022 H5P + Laulima cohort pilots accomplished.
Consider applying to be in the second cohort of participants this fall, 2022-2023 H5P + Laulima Cohort applications are now open! Deadline to apply is Friday, May 20, 2022. Applicants will be notified by mid-June.
Thoughts, questions, or feedback, please comment below.  – Mahalo