Move over Smart Classrooms, there's a new kid in town. As most of you already heard by now, we have a new technology classroom called the Technology Enhanced Classroom (TEC). Thanks to CARES funding, the campus was able to purchase equipment for 50 TECs (most were former Smart Classrooms and some non-Smart Classrooms) and two casual hires to assist with installation. The TECs are more powerful and flexible than the Smart Classrooms to accommodate different modalities (i.e. in-person, hybrid, and DE) for teaching and learning.
View a complete list
of all technology classrooms on campus including the installation status of the TECs.
Modular Design
The new modular design for the TECs was created by our very own Electronics Technician, Garrett Chaves. It features:
laser projector providing brighter images and quieter operation
flat-field speakers
longer lifespan
centralized control
standardized user-friendly control panel
ADA lectern with more table space for instructors
the functionality of adding modules without affecting the overall operation of the room
Hybrid Kit Add-On
One such "module" added onto the TECs (funded by CARES) to support socially-distanced in-person and various hybrid and DE modalities were the "hybrid kits." The hybrid kit contains:
Video recorder on a tripod for capturing video in the classroom for streaming, for instance, on Zoom, or creating video recordings
Elmo document camera for showing 3D objects or demonstrating
Wacom digital tablet for annotating or drawing on the computer, for instance on Zoom or slides
Elgato video capture card to allow multiple video inputs for streaming, for instance, on Zoom, or creating video recordings
Lanyard mic to allow the instructor to be heard, for instance, in Zoom, as they walk about in the classroom
Installation
Our AV Services staff, Iban Urmeneta and Garrett Chaves (Electronics Technicians) and Ryuko Tanner and Jacob Gabriel (Classroom AV Installers) were instrumental for installing and testing equipment to get these classrooms ready for instructors to use starting in Fall 2021. TECs scheduled for Spring 2022 should be ready by the start of the semester.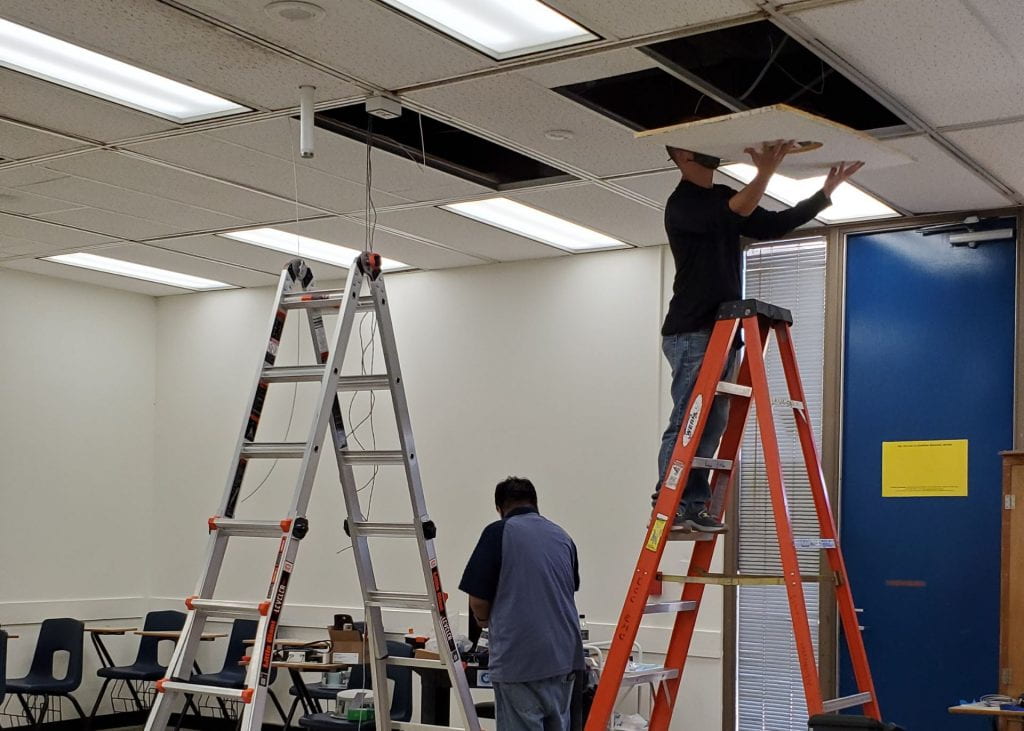 TEC + Hybrid Kit Support
Visit our Hybrid Classroom Orientation webpage to get acquainted with the equipment, tools, and tips for planning for hybrid instruction.
EMC's Ed Tech and AV Services units will be providing a
TEC + Hybrid Kit Orientation
on
January 6, 2022 at 1:00 – 2:00 p.m. in LA 110
. Please
register
to attend. Alternatively or if preferred, you can make a
1-1 appointment
.
Contact