EMC Video Production Unit Captures Amazing Student Scientists Conducting Research at Leeward Community College
For the last 17 years, Leeward Community College has provided students opportunities to conduct research projects that actually contribute data to larger biomedical research efforts.
Each summer, teams of students are recruited to be part of INBRE, the IDeA Network for Biomedical Research Excellence, a program of the National Institutes of Health.  Under the guidance of Professors Kabi Neupane and Helmut Kae, these students learn research techniques and lab skills in well-equipped labs right here on campus. They collaborate with researchers at UH Manoa, making contributions that have real scientific impact. Even more, their work could ultimately have global implications, feeding the hungry, increasing agricultural productivity, curing presently little understood diseases.
A few months ago, the EMC's Video Unit partnered with Drs. Neupane and Kae to document the activities of these remarkable students…and they are remarkable. These young scientists are amazingly comfortable, knowledgeable, and poised in the lab environment. They are mature and eloquent, and all of them demonstrate an impressive level of passion and excitement for their projects. The videos produced help to highlight the professionalism and quality of the program.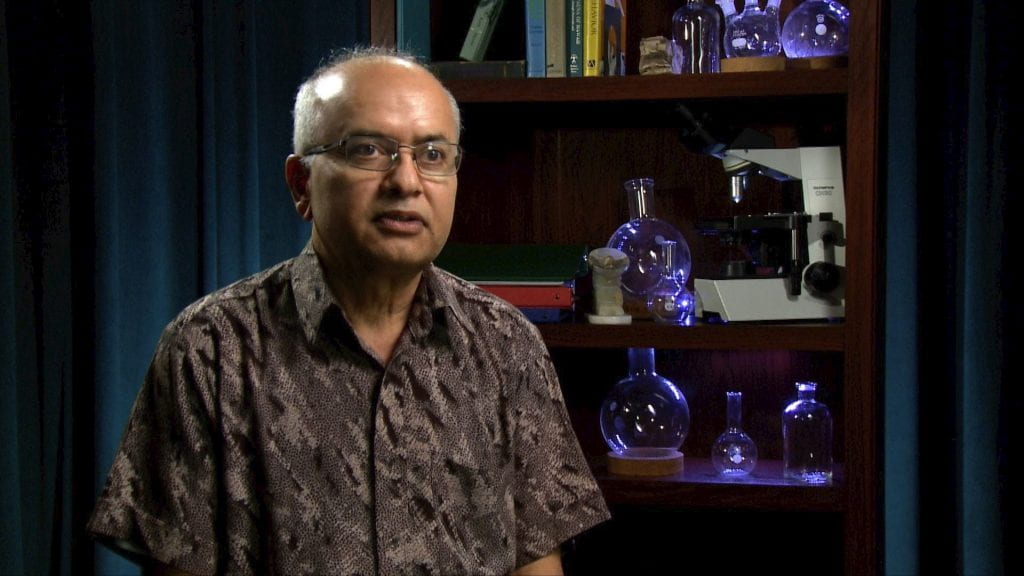 Dr. Neupane, Campus Coordinator for the INBRE program expressed his appreciation for the work the Video Production Unit provided. "We are extremely pleased with the high quality work and care of the Media Center Video Production staff. We would love to continue the partnership in future. The videos made will be used to highlight our undergraduate research program at Leeward CC. This will help us in our recruitment process."
Dr. Kae, the Campus Co-Coordinator, was also appreciative of the effort put forth by the production staff. When asked for his impressions he said he was "…quite amazed with the production quality. I wasn't really sure what to expect, but it definitely exceeded anything that we imagined it would look like." He added, "The staff was very professional, and extremely courteous. They put our students at ease during filming, and really made this process as smooth as possible. I really appreciated the fact that they were cognizant of the work that was going on, so they tried to be minimally disruptive throughout the process."
We look forward to continuing this partnership with Drs. Kae and Neupane, and having the opportunity to work with more of their students. Aside from creating noteworthy videos for our campus programs, our staff gets great satisfaction and enjoyment in meeting and working with our inspirational young scientists.
To see the videos about this program and these amazing students,  click on this link:  INBRE Playlist.  If you would like to produce a video highlighting a project or event you're involved with, contact the EMC Video Production Unit at ext. 0604, or submit a services request form at Video Services Request.