Online –Monday, January 23, 2017 at 12:00 AM – Sunday, March 5, 2017 at 3:00 AM (HST)
This challenge is designed to help you redesign an online learning activity, using the three core principles of the Universal Design for Learning (UDL) framework.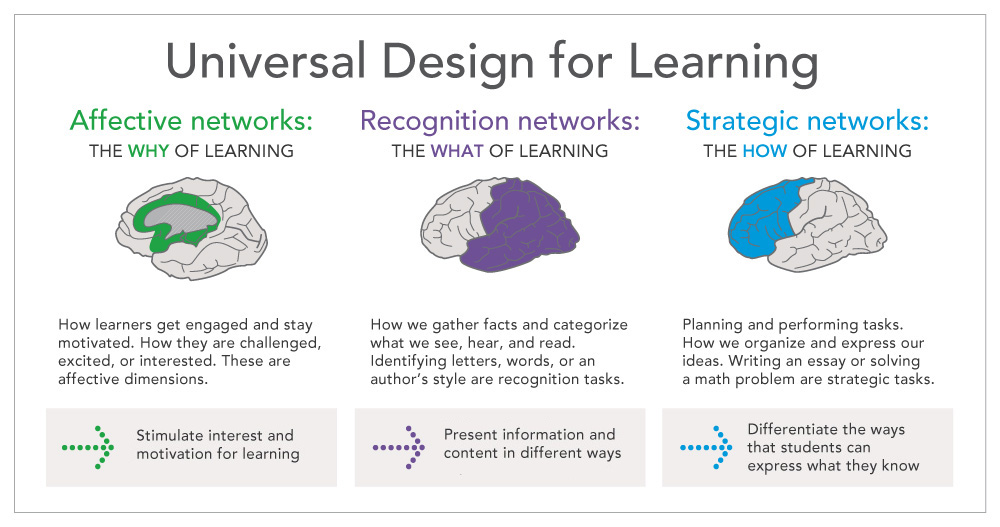 The three core principles of the Universal Design for Learning (UDL) framework.
Provide Multiple Means of Representation
Provide Multiple Means of Action and Expression
Provide Multiple Means of Engagement
Schedule
How it Works
Mondays

On Monday morning you will receive an email with the current week's "learning path". Follow the path please. The learning path typically includes: Short overview of week's topic Link to a challenge webpage overviewing the week's topic with extra resources to peruse at will. Link to a worksheet you will copy, complete and change the settings to allow for commenting Link to upload and upload to the Google + Community. short close of previous week other info

Wednesdays

Wednesday email to check-in and see how it's going. Respond to email if you need help. Reminder of Thursday posting deadline Learning path repeated from Monday. Notice of badges issued from previous week Short blurb on week's topic other info Thursdays Complete your weekly worksheet by the end of Thursday, and post your results in the Google+ Community.

Fridays Pau hana email.

Thank you for posting worksheet on time. Reminder of Sunday deadline Short blurb on week's topic other info

Sundays

Deadline to comment on other worksheets (2 minimum comments if you like doing the minimum). Provide further insight into to the participant's results. Practice improving your online interaction with insightful commenting.
Earn a Letter of Completion
When you complete a weekly action plan worksheet and comment on others learners actions plans, you earn a badge.  Earn all 5 badges and you qualify for a Letter of Completion. This letter is a valuable piece of evidence for Contract Renewal, Tenure, and Promotion.